Batch transfer NFTs, airdrop Tokens on ETH, BNB, SOL, MATIC, AVAX, FTM, HT, CRO, Arbitrum, Optimism, KLAY, xDAI, Aurora, CELO, FSN, ETHW, ETHF, GLMR and MOVR safely and efficiently to multiple wallets in a single transaction.
Ethereum
BSC
Solana
(free)
Polygon
(free)
Avalanche
Fantom
Heco
(free)
Cronos
Arbitrum
Optimism
Klaytn
(free)
Gnosis
Aurora
(free)
Celo
Fusion
(free)
Ethereum PoW
Ethereum Fair
Moonbeam
(free)
Moonriver
(free)
BatchTransfer Solana is HERE, and it is FREE!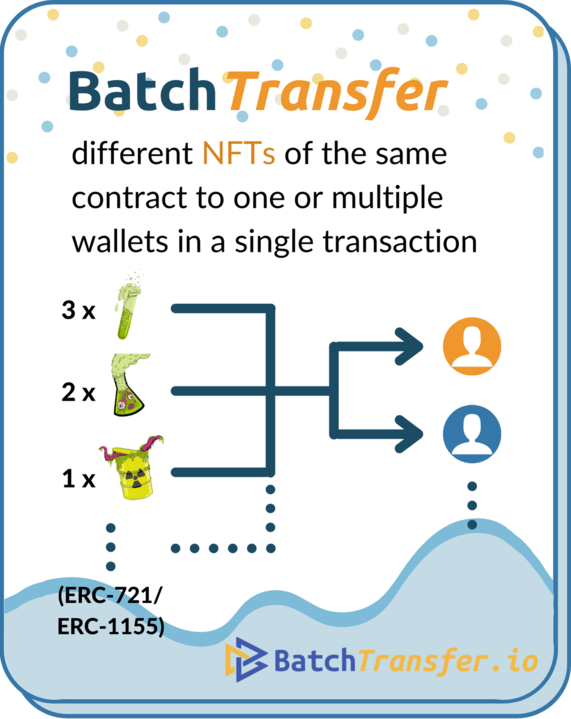 Tutorial
Batch Transfer in 3 Steps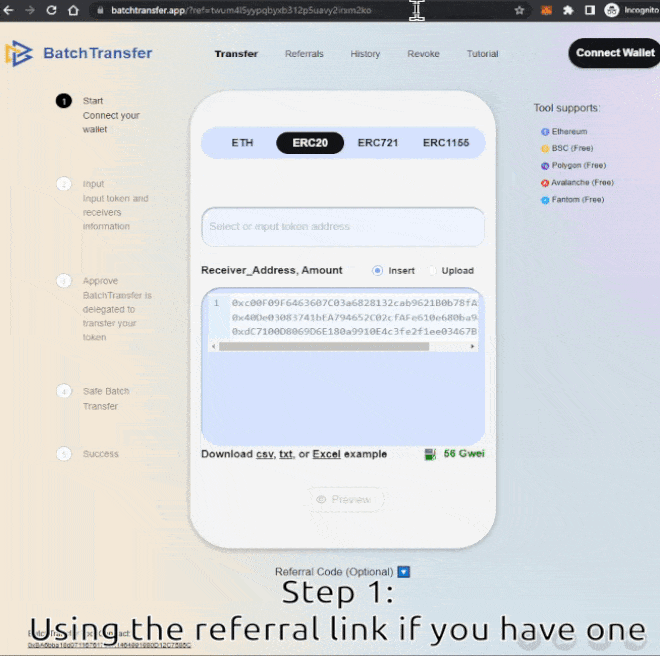 Step 1: Input
Input token and receivers information.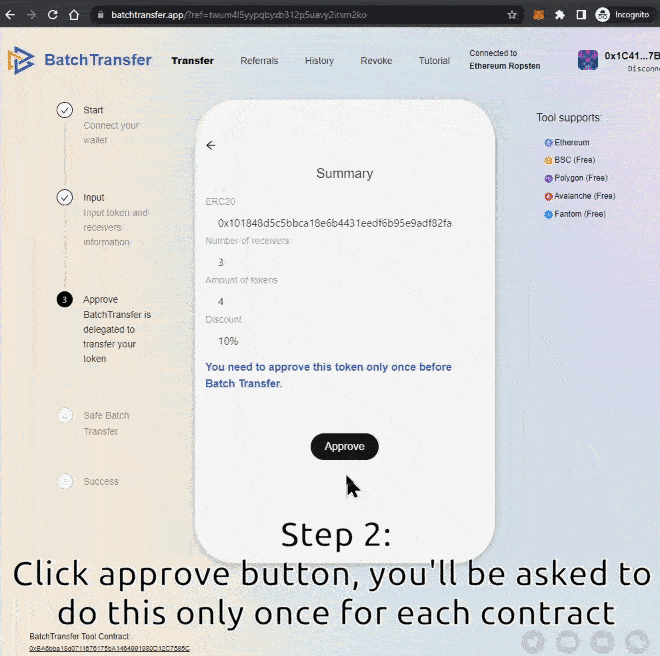 Step 2: Approve
Approve BatchTransfer to transfer your token, only once for each token type.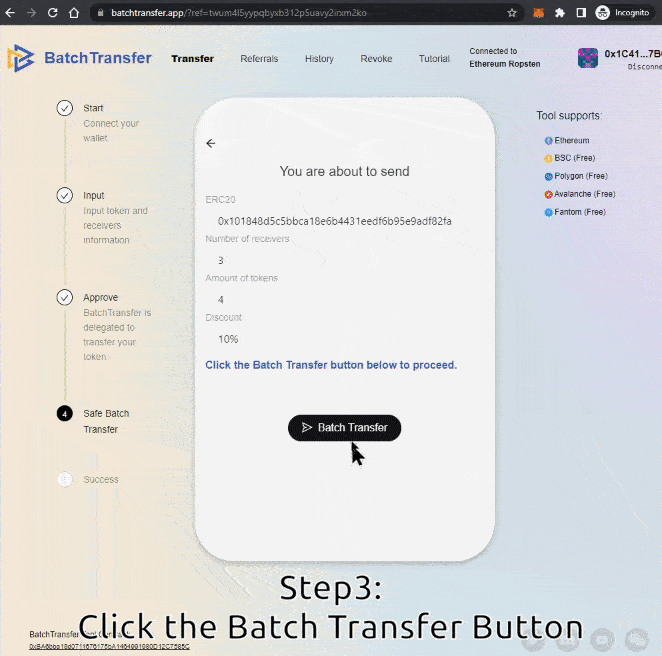 Step 3: Safe Batch Transfer
Safe Batch Transfer your tokens and save transaction fee (Gas).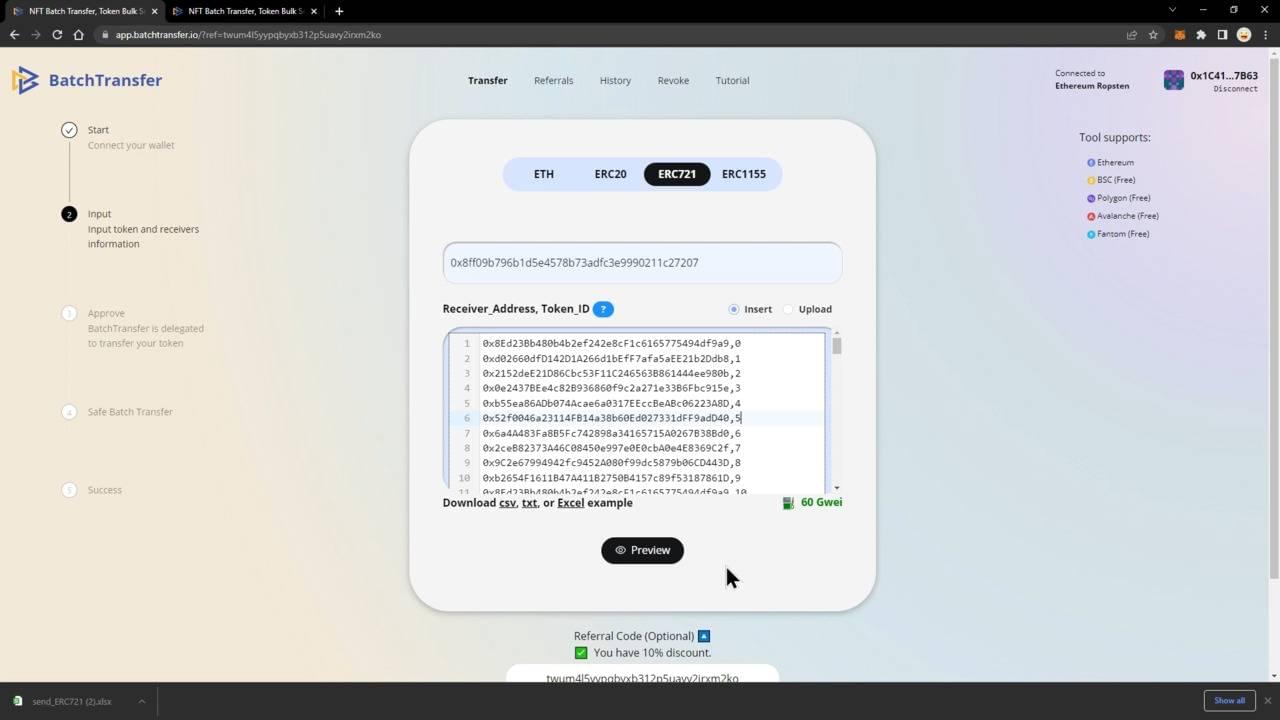 Pricing Plan
Transfer more, Save more!
We save you hundreds, if not thousands, of dollars in transaction fee.
Referral 20% + 10%
Referral once, Bonus forever
1
Generate your referral link
2
Share your referral link with your friends and social media
3
Your friends use BatchTransfer from the link for the first time
4
You get 20% bonus + Your friends get 10% discount every time
Start Earning Now
We will encode your wallet address to protect your privacy.
1. What can BatchTransfer do?
2. Why is BatchTransfer safe to use?
3. What is one-time Approve? Why is Approve safe?
4. How to use BatchTransfer?
5. What if the token I want to transfer does not show up in the drop-down list?
6. What is the maximum number of rows I can transfer in a single transaction?
7. How much transaction fee (gas) can BatchTransfer save?
8. How much commission does BatchTransfer charge?
9. How to generate the referral link?
10. How does the referral bonus work?
11. What is the difference between ERC-721 and ERC-1155? How do I know whether my NFTs are ERC-721 or ERC-1155?
12. How to find the Token ID of my NFT?
13. Can I use BatchTransfer on Ethereum Testnets?
14. What if my transaction takes longer than usual?
Partner
Customer Review